Chrome Craft is a full-service machining, welding, hard chroming and precision grinding facility in Sacramento.
All work is done in-house from start to finish, enabling us to keep costs down, ensure quality and provide customers with a speedy turnaround time.
Learn more about our services below.
Our Chrome Craft team is well-known in the industry for their expertise in quality hard chrome plating and precision grinding.
Extremely hard (up to 70 HRC) and corrosion resistant, hard chrome makes for an excellent coating for many industrial metal surfaces subject to wear, including turbine shafts, bed plates, hydraulic cylinder rods, extrusion dies, transmission shafts and much more.
Hard chrome is applied by an electroplating process. Chromic acid in solution is electroplated to the desired area of build-up as a current travels between an anode and the part, which acts as the cathode. The chrome atoms are drawn to the part where they are converted from their soluble ionic state to solid chrome metal, resulting in an extremely hard and wear-resistant surface.
Chrome Craft's plating tanks can handle parts with lengths up to 288" and widths up to 72". Parts that require chrome stripping can be accommodated up to 180" in length and 72" in diameter.
All final products are put through metallurgical testing & stress relief to ensure the parts are free from any flaws or imperfections.
Our expert hydraulic specialists are the best in the business, able to tackle hydraulic repair from any industry.
Firstly, they will test and evaluate your cylinder units to determine a recommended course of action. Our team can then handle all fixes in-house — whether it's a simple reseal job, minimal chrome and grind repair or a complete hydraulic cylinder system rebuild/overhaul.
Complete inspection including hydraulic pressure testing to 3,500 P.S.I.

Cylinder barrel repair and honing




Cylinder rod rechroming and grinding

Manufacture pistons & heads as needed

Reassembly & seal kit packing

Exchange or repair of cat rods and barrels
PIN REMANUFACTURE OR CUSTOM PIN
Our team also has the experience and machinery to transform your worn OEM pins back to their original specs or build a custom pin completely from scratch.
Chrome Craft manufactured pins incorporate only the highest quality materials and technology that meets or exceeds OEM specifications. Chrome Craft has also worked closely with OEM dealers and end users to develop a unique process for our custom and remanufactured pins that result in durable, wear-resistant pins that have no equal.
All Chrome Craft original and remanufactured pins are finished with an optimal layer of hard chrome. Our process avoids using excessive amounts, which would result in the chrome cracking Our first step brings the pin to just under the finish size, with the original OEM hardness of the pin also met or exceeded. The pin is then put through precision machining, followed by hard chrome plating, which gives the pin more resistance to wear and scoring, and finally, polished to final OEM diameter.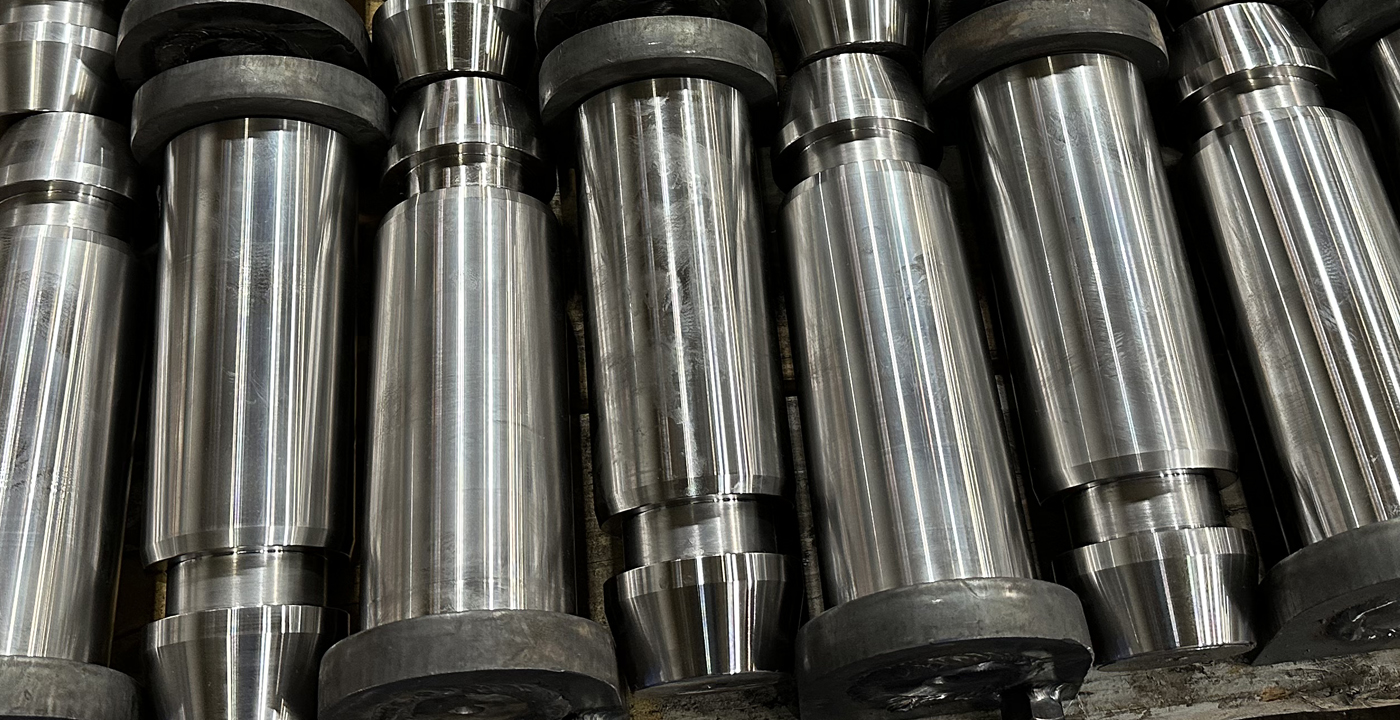 Why is Thick Chrome a Bad Thing?
If you have ever used thick-chromed pins, you probably found out the hard way that those pins did not hold up. This is because heavy deposits of chrome will eventually chunk off due to the hammering the pin is subjected to during use.
The life of a pin of even the best quality still depends on proper sizing of the mating bore or bearing. Putting a rebuilt pin in a loose bore will result in premature wear on the pin. The bores also need to be rebored or the bearings replaced to have a properly rebuilt machine. This is something our team will also ensure is done correctly.